Posts for tag: cosmetic dentistry
By Bright Smiles Dental Care
June 02, 2021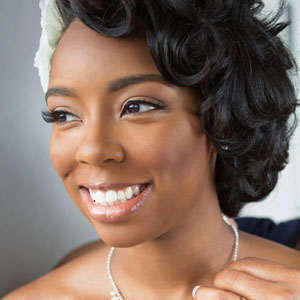 The traditional June wedding season hit a bump last year during the COVID-19 pandemic as many couples down-scaled or postponed their ceremonies. But with hopes that the virus is finally waning, this year the early summer tradition shows signs of reviving. If you're one of those happy couples, you're no doubt working right now to look your best—and that would include your smile.
And there's no time like the present to make sure your teeth and gums are spruced up for the big day. True, some cosmetic enhancements can take weeks or even months to complete. But some can give you a brighter, more attractive smile with just a dental visit or two.
Here are 3 procedures that could help your smile match that once-in-a-lifetime moment.
Dental cleaning. The main purpose for visiting us every six months is to remove any harmful plaque and tartar missed with daily hygiene. But an added benefit for these single-visit dental cleanings can be a brighter, fresher smile. To take advantage, schedule a dental cleaning within a week or so of your wedding.
Teeth whitening. If you want to take your smile brightness to another level, you may want to consider professional teeth-whitening. The professional bleaching solutions we use can restore shine and translucence to dull, yellowed teeth that could last for months or, with touch-ups, a few years. We can also fine-tune the level of brightness you're most comfortable displaying to your wedding guests.
Dental bonding. Do you have a chipped or disfigured tooth that puts a damper on your smile? We may be able to make that defect disappear in just one visit with dental bonding. Using a dental resin material matched to your natural tooth color, we can fill in your tooth flaw and then sculpt it to look as natural as possible. The end result is a life-like, durable finish that will have you beaming on your big day.
Like we said, if your wedding is just around the corner, these particular techniques can make a big difference for your smile. If, however, you still have a few months before your wedding, you may be able to take advantage of other therapeutic and cosmetic measures like dental veneers, crowns or even possibly orthodontics.
To learn more about your cosmetic options, see us for a full evaluation of your smile needs. We'll work with you to help you achieve the most attractive smile possible for your once-in-a-lifetime day.
If you would like more information about cosmetic dental choices, please contact us or schedule a consultation. To learn more, read the Dear Doctor magazine article "Planning Your Wedding Day Smile."
By Bright Smiles Dental Care
June 08, 2020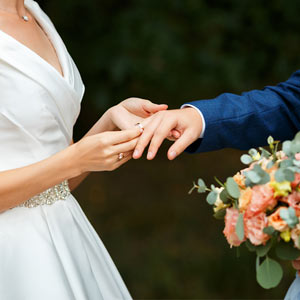 Like thousands of other June brides and grooms, your big lifetime moment has finally arrived: your wedding day! It's been a flurry of activity over the last few months to prepare for it, especially with efforts to look your absolute best. And you remembered everything—including your smile, right?
If you did, kudos to you. Your smile is an important part of your unique personality and thus merits its own special attention. If, however, in all the hustle and bustle you weren't able to give it the attention it deserves before the wedding, don't fret. When it comes to your smile, it's never too late to make it the best it can be.
Depending on your dental situation, here are four ways to achieve a more confident and attractive smile.
Teeth Whitening. Yellowed and dull teeth can dim the beauty of your smile. While daily brushing and flossing helps, you can further improve your teeth's brightness with professional teeth whitening. Our bleaching techniques can give you the shade you desire, from naturally subdued to Hollywood dazzling. And with proper maintenance and touch-ups, your brighter smile could last for years.
Veneers. Dental imperfections like chips, heavy staining or slight tooth gaps can detract from an otherwise perfect smile. We can mask those imperfections with veneers, thin layers of porcelain custom-created to match your teeth. Although less expensive and less invasive than some other cosmetic procedures, veneers can have a transformative impact on your appearance.
Restorations. Sometimes a smile may suffer from severely distressed or missing teeth. Depending on what you need, we can restore your teeth—and your smile—with crowns, bridges or dental implants. The third option is the closest we can come to a real tooth, replacing both a missing tooth's crown and root. With an implant, you can have a new tooth that looks and functions like the real thing.
Orthodontics. Properly aligned teeth make for a beautiful smile. If yours aren't as straight as you'd like them to be, consider orthodontics, the original "smile makeover." Moving teeth where they ought to be improves dental health and function, and can dramatically improve the appearance of a smile. Even if you're well past your teen years, you haven't missed out: As long as you're reasonably healthy, you can gain a straighter smile at any age. However, this improvement needs more time and planning—so don't wait if that's what you want to do!
If you still have time before the wedding, a dental cleaning and polish can do wonders for your smile (and your dental health too). But even if you aren't able to fit in an appointment before the big day, you can still pursue a cleaning or cosmetic procedure after the honeymoon. Any time is the right time to change your smile for the better.
If you would like more information about enhancing your smile, please contact us or schedule a consultation. To learn more, read the Dear Doctor magazine articles "Cosmetic Dentistry" and "Planning Your Wedding Day Smile."